Adventure of HAppy bear!
once upon time there was happy bear. happy bear lived near santa claus in north pole antarctica! people and non-white bears get cold in north pole antarctica but happy bear had secret! bottle friend would help keep happybear be warmer! so for long long time happy bear, bottle friend stay together for long time and happy bear save manny manny en in wallet-pant.

"it is the case that it is large world!" he said to friend-bottle. here i am so happy near mr. santa claus, but i think i see friends in rest of world where everyone like happy bear! so happy bear decided go far and around to world. he and bottle friend packed manny en into wallet-pant.
first happy bear and bottle-friend went grand Canyon, in New Mexico! it was fun and even though happy bear is big bear grans Canyon is bigger, bottle friend liked nice air and color of New MExico! happy bear did climb on top of standing clife aislehe and bottle friend saw all of new Mexico! sometimes they say fly-plate of new Mexico! secret diet bilding are new Mexico!
happy bear is very old bear. it is because bottle friend keep happy bear would acting young. he remember one time to have see a place for game and lion friend eat europe-people next to boot-island! but would he make small to make happi uoman friend! is bottle friend angry to be between uoman and happy bear? no bottle friend and happy bear know to share to make care friends!
then happy bear went the "atlantas", amerika. bottlefrend would like the "atlantas" was happy thinked. they went over and saw manny sport fan and big bilding. also nice because santa claus like atlantas, amerika. in amerika eveyr one use folks for food and tea which make easy for happyy bear eat peeples. he is old bear.
bottle frend did say: "happy bear we have fun in amerika, but for example can we go see tree abd leafs?" happy bear being happy bear would always agree for nature can find many animal and healthy times to decide which way move. here is jungle, happy bear, bottle freind together. in jungle there is manny people want tree dead, but happy bear says big "no-no" . then he drop bottle-freind and would looking for it.
he went mekka and could saw manny peopl who did not have bottle frend. happy bear would from here be mad-baer, but mekka remind happy bear back to regular! it was close, wasnt it! "maybe bottle frend is playing the "trick" on happy bear this day" toward the think he could have!
then he could find bottle friend!
in spein he could find pervert stand bilding, did happy bear not! BETTER WATCH OUT! said bottle-friend! "this miner one could be major!" bottle friend happy bear tried to find place to would sit for lunch-box time, but there is no lunch box in spein, only ramen non-soup bowl, no new-pickles !11
then there was rushia friend, again, rushia friend, bottle friend, happy bear were good friend. was it trick of happy bear? in rushia it was hot and there were manny manny stoned older than happy bear, but happy bear still happy! "this mr non-face-flower would be more old than dsanta clause!"happy bear could say! it was a fun time!
then happy bear did receive "question" from bottle friend. "in china there would be manny more old stoneds can we go look?" "we can saw" happy bear did say! so to china they want to stand in many big 'O' shape and stood with much bottlefrend theer also was picture!
to next go see oprah in chicago! but no oprah! only big loud peopel all say "OY! OY! here is my beer! i am receive now! or i break mr happy bear head open!" is it only chicago people who say all time! funy lake in chicgo! very very big! so happy bear no like lizard thug drink-always people, who try steal bottle friend! so he walk away from oprah-hopuse.
this is the "new world" where coloumbo-chang discovered indo-people! indo-people only have tea, curry, everyday! it is not New Mexico! bottle frned say! i want cow milk to sleep! happy bear made more friend with many indo's! the train was late.
happy bear walked far far away to norway, which is close to santa. he did see big tower. they like Japan so copy japan of tokyo of tower! very good! after one sheet of picture could be receive, he climb tower and did see far to next city in distance!,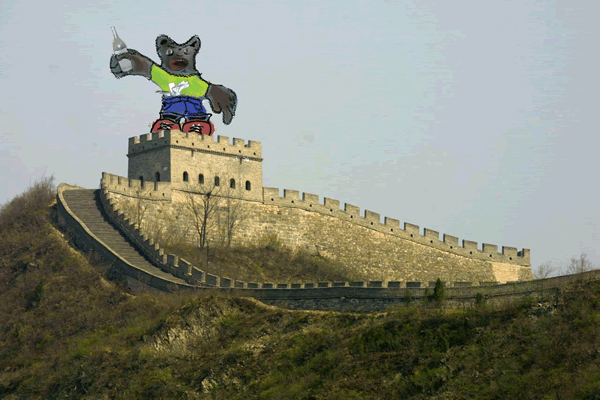 here is where azteks could live manny year before. they could eat heart of friend and enemie. "you not eat my heart"happy bear say at bottle friend! HAHAHAHA it was manny interesting. but wallet pant did get thinner, so they say "we will say hello santa and sleep good! maybe again we go make friend!"
THE END!!!!!!!!!!!!!!